From Hyperjinx Tricycle with lyrics by Ron English for his friend Daniel Johnston.
Daniel Johnston passed away on Sept 11, 2019 and we all mourn the loss to our world and pray for his entrance into the next.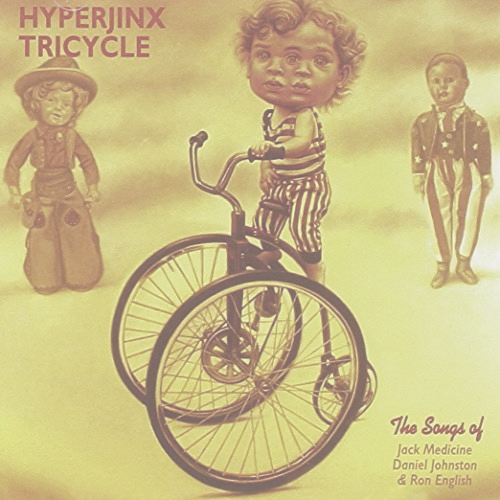 January 20, 2020 at the Colony in Woodstock Open Mic. Kathy Geary and Twisted G String perform "Sleeping Outside" - I met these two accomplished musicians and ten minutes later we played my song, all they knew was it was in 6/8 and my low string was tuned to D. This is the kind of experience that only happens when all the planets are in alignment!
Last year, January 7, 2020 at Colony Woodstock NY my original song "Sleeping Outside" with two wonderful musicians. They had never heard the song before and agreed to join me on the spot. Seems like a million years ago.
At home singing to my cats and to you! Joni's music has given me so much, pleasure and understanding. She puts it into words. Alternate tuning DAEF#AD. This is a miniature portrait of a woman's life, someplace cold and hard and the desire to escape but never quite going anywhere. Every day is the same, the song begins on a Sunny Sunday and ends on a Sunny Monday. The title is a little misleading huh? Dive into it with me. Let me know what you think! love.
Saturday, Oct 11 from 2 - 4pm, Honesdale Harvest Festival, Fred Miller Pavillion, Honesdale, PA
I usually sleep in a tent when I stay in the woods and forests, but once or twice I have slept right on the ground under the night sky. I was in Missouri traveling home and stopped to rest and when I looked up at the sky it looked like the stars were moving around! Then I realized I was seeing a swarm of fireflies against the backdrop of the bright stars and it was breathtaking. I wanted to capture the beauty of that experience in this new song, written in late 2019.
I was inspired for the guitar part by the music and alternate tuning of the American guitarist Michael Hedges from his song "Fusion of the Five Elements" from the posthumous recording "Torched".
Drive-In Concert, Sunday Oct 17 from 6:30 - 9:30pm at the Narrowsburg Union, NY
Read more: Live Outdoor Performances in OCT 2020 - Drive-In Concert
May 5, 2020 - Here's my latest song - it's rough! it'll get better, but here it is. Guitar is little out of tune and I'm a little tipsy. WHEN I'M AWAKE. Check it out! When I awoke, I found it was just a dream....
Original songs by Kathy Geary
When I'm Awake
March 22, 2020 - I wrote the lyrics in early March. the week before the pandemic was in effect. I was driving home from the radio station in Jeffersonville when they came to me, all at once, sorta. I pulled the car over and wrote them down. Then I was at Cabernet Frank's in Parksville listening to Dave Milner playing a solo gig, and I was sitting with Caswyn Moon and he told me about his new song. Then I read him my lyrics and we talked a bit. He gave me the line "When I'm Awake, I'm Really Asleep". Then I wrote the guitar music to fit the lyrics. The melody was next. Then It occurred to me to use the ancient child's prayer as the bridge. So here' s a rough draft. I got to sing it in a virtual open mic with my friends from Rafter's Tavern Open Mic, the folks from Callicoon and surrounds. And it's almost done, just a couple tweaks. So now I have three new songs, like a new life writing my own my music.
I know this place. I've been here before.
The curtains blowing in the open window, the smells from the kitchen.
But when I awoke, when I awoke, when I awoke
I found it was just a dream, just a dream, just a dream.
I know this man. I've seen him before.
The way he walks into the room, that face, those hands, those hands, that face.
But when I awoke, when I awoke, when I awoke
I found it was just a dream, just a dream, just a dream.
Now I lay me down to sleep. I pray the Lord my soul to keep.
If I should die before I awake, I pray the Lord my soul to take.
I know this song. I've heard it before.
The lilting melody, the climbing chords, the heart song that rings in my ears, in my ears.
But when I awoke, when I awoke, when I awoke
I found it was another lifetime.
When I'm awake, when I'm awake
I'm really asleep.
April 22, 2020 Ron English wrote these lyrics and I've just completed the music. Recorded at home, in my fancy pajamas, with no make-up and bad hair!! But I don't care, it's about the song. Ron hasn't heard it yet, but I hope he likes it well enough. The lyrics say more than I ever could.