Native American Influence in Rock: Robbie Robertson, Jimi Hendrix, Walela, Rita Cooledge
Original air date Feb 23 2019 | Time 59:00
We listen to some tracks from Robbie Robertson "Music for the Native American" whose heritage is Mohawk. Jimi Hendrix's mother was Cherokee! We hear "Little Wing". Brewer and Shipley sing an indian chant "Whi Chi Tai Tai". From the "Best of Walela" we hear Rita Coolidge, who Cherokee.
Bare Trees, Grey Skies - Fleetwood Mac, Becca Stevens, Jimi Hendrix
Original air date Sept 14, 2019 | Time 59:00
The Seasons are Changing, you can tell from the trees. They surround us. There are more trees here than people. They understand and show me how it's done. The leaves begin to fall, the wind begins to blow and the seasons turn.
Fleetwood Mac, Bare Trees, Bare Trees
Fleetwood Mac, Woman of 1000 Years, Future Games
Becca Steven,s Tillery, Tillery
David Crosby, I Am No Artist, Here If You Listen
David Crosby, Vagrants of Venice, Here If You Listen
David Crosby, Sky Trails, Sky Trails
Michael Hedges, Rough Wind In Oklahoma, Torched
The Jimi Hendrix Experience, The Wind Cries Mary, Are You Experienced
The Jimi Hendrix Experience, All Along the Watchtower , Electric Ladyland
The Jimi Hendrix Experience, Rainy Day, Dream Away, Electric Ladyland
Road to Heaven (English/Geary)
From Hyperjinx Tricycle with lyrics by Ron English for his friend Daniel Johnston.
Daniel Johnston passed away on Sept 11, 2019 and we all mourn the loss to our world and pray for his entrance into the next.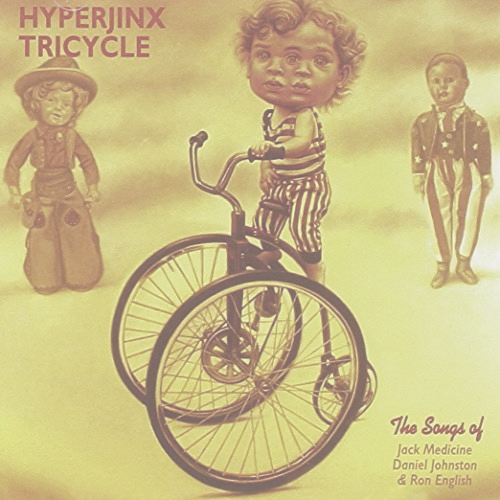 Anything But Square, Odd Time Signatures in Rock: Steve Winwood, King Crimson, Blind Faith, Beatles
Original air date September 7, 2019 | Time 59:00
Rock n Roll is built on a strong back beat - one TWO three FOUR - starting with the Everly Bros in the 50's and through the British Invasion of the 60's. It's highly unusual when a musician wanders into the unknown territory of ODD Time signatures, for instance five beats per measure instead of four. Middle Eastern rhythms and even Greek are often in seven!
For me, an odd time signature is exciting, it changes the way the melody is phrased and adds an unexpected swing to the beats, to the turn around of the rhythm. Sometimes it's barely noticeable, for instance listen to Nick Drake's "River Man", with the entire song in 5/4, giving a lullaby like rocking feel. Other times it's used to alternate the feeling of the verses and choruses, for instance in Steve Winwood's "Raging Sea" with the verses in 7/4 and the chorus in 4/4. Amazing!! And then there are the extreme treatments that approach chaos and a wild feeling throughout the entire piece in King Crimson's "Discipline" where two lead guitars play together in different time signatures simultaneously and the drummer is in 17/16 (weirdest time signature I've ever seen).
But my favorite example is John Lennon's "Don't Let Me Down". There's one phrase in 5/4 which is the intro line to the verses. "Nobody ever told me that she done" is five beats then the rest of the song in four. When I first heard this song it got my attention big time but I didn't realize why at first. Take a listen and see what you think!